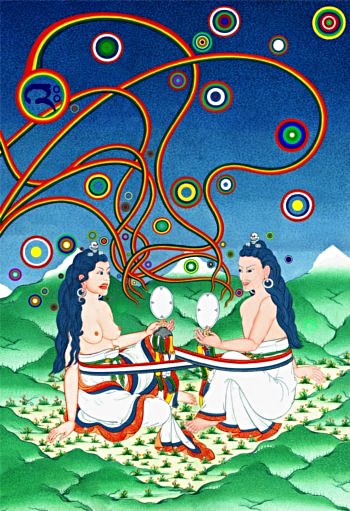 Now available on Kindle and in paperback.
My first experience of the Aro tradition was a weekend program titled "Vajra Romance," in 1996. I did not have high expectations on arrival. The topic sounded ridiculous. However, I had some personal interest in romance. It seemed unlikely that Tibetan Buddhism would say anything useful about it, but I was curious.
Ngak'chang Rinpoche's talks that weekend floored me. He wove together the theme of romance with Dzogchen teachings on the non-duality of duality and non-duality. I was reading Dzogchen books at the time. Even just as abstract philosophy, what he said went far beyond anything I had found.
When I became an Aro apprentice, in 1997, the aroter.org web site announced that a book on vajra romance, Entering the Heart of the Sun & Moon, would be published in 1996. Apparently, it had been already delayed a year. For another decade, it was "to be published next year." Thereby hangs a story.
In the mean time, for the next ten years, this web page was only publicly-available Aro teaching on vajra romance. It was a revised transcript of an invited keynote speech at a conference of "transpersonal" psychotherapists in 1994. Although not psychotherapists of any sort, Ngak'chang Rinpoche and Khandro Déchen tried to explain Dzogchen concepts and practices in a way that would be understandable to that audience.
really, you know, like, Californian, you know?
Unfortunately, publication of the speech gave some Buddhists the impression that the vajra romance teachings were really, you know, like, Californian, you know? Psychotherapeutic and New-Age-y and superficial—some kind of feel-good nonsense that had nothing to do with Buddhism. That was an easy mistake to make. The talk used the language of its audience. It presented only the most obvious parts of the teaching, due to psychotherapists' unfamiliarity with Buddhism, and the short time available. No more-complete presentation was written for the web, because it always seemed that the full book was about to be ready.
Vajra romance is one of only two topics in which, it seemed, the Aro gTér had something unusual to say. Some Buddhists came to the conclusion that the Aro teachings were all New Age psychobabble. This was entirely wrong—but a somewhat reasonable mistake to have made at one time.
Entering the Heart of the Sun & Moon was drastically delayed for two reasons. One was an almost comic series of logistical obstacles encountered by Aro Books, the publisher. Those are past now; this is the second new book this year, and I expect at least one more. Practical hassles cannot account for a 13-year delay, however.
For most of that time, the authors pondered how, and whether, to make the teachings public. There were several difficulties and dangers.
The philosophical component is extremely subtle. It comes from Dzogchen men-ngak-dé, which traditionally can only be taught in person because it is so difficult to understand. "Men-ngak-dé" translates roughly as "the part that can't be explained." It may be impossible to convey in a book.
The practical component is extremely simple. It is easy to say "oh, that's obvious," and then ignore it. It might also be easy to mix it up with other advice about relationships. Vajra romance is actually incompatible with most other relationship advice. It may be impossible to see this unless you already have extensive experience and understanding of Tibetan Buddhism.
Here is an audio recording from 2006, in which Ngak'chang Rinpoche discusses this problem. (This recording also serves as a general introduction to the topic. You might find it useful if you are deciding whether you want to get the book.)
So—after a bit of a wait, Entering the Heart of the Sun and Moon has been published, in April 2009. Now what?
One danger is that the book will be ignored as either incomprehensible or obvious. That would be a sadly missed opportunity, but no harm.
an enormous hunger
The other danger is that it could be appropriated, in a superficial way, by New Age forces. There is an enormous hunger in the West for spiritual teachings on romance. Romantic problems are one of the main things that bring people to religion nowadays. Spiritual teachers want to meet that demand—for good motivations and bad ones. Yet most religions have very little to say about romance.
Misunderstood and mixed up with holistic razzmatazz, the vajra romance teachings could become actively harmful. Tibetan Buddhism uses heterosexual union as a metaphor for non-duality. If non-duality is not understood, these teachings could simply reinforce sexist and heterosexist stereotypes. Someone might try to say that "according to Tibetan Buddhism, men's sacred role is this, and women's sacred role is that." That would be a hideous distortion. It would be actively harmful to sane relationships, which recognize the fluidity of male and female roles, and the presence of both masculine and feminine characteristics in every human being.
Similarly, the book discusses the role of the five elements (a/k/a "Buddha families") in relationships. Chögyam Trungpa Rinpoche's presentation of this material has been widely misunderstood as a theory of personality types. Putting people into five brightly-colored boxes is exactly opposite to the essential Dzogchen principle of self-liberation.
For a long time, Ngak'chang Rinpoche and Khandro Déchen planned to make the book available only to people who had been through a weekend program on the subject. That would make it less likely that anyone could set themselves up as experts on "secret Tibetan teachings on relationships" after having just read the book.
unspeakably bizarre
After much consideration, they decided that the material was too valuable to keep under wraps. The book is available to anyone—but the authors re-wrote it in a way that makes it difficult to misuse. Key parts are written in a style that is virtually impossible to understand intellectually. They are, however, easily understandable experientially. Those who have had the relevant experiences will recognize what is described, even when the words are not comprehensible. For this reason, it should be impossible to attempt to teach the material without a deep understanding of it. One could not parrot the words, because they are unspeakably bizarre.
A coming-out party
Entering the Heart of Sun & Moon is the first book to present a distinctively Aro teaching. Previous Aro books have discussed standard Tibetan Buddhist topics in the unusual Aro lineage style—but have not said anything that could not be found elsewhere. (Vajra romance is taught in every Tibetan lineage, but rarely in much detail. The only extensive non-Aro presentation I know of was by Jetsünma Sera Khandro Rinpoche (1892-1940).)
This is an exciting moment. You might almost say that, 34 years after its rediscovery, the Aro gTér is finally having its coming-out party. A book on Aro sKu-mNyé, which is (as far as I know) unlike anything found elsewhere, should be out this summer. Books on other specifically Aro topics are in various stages of development.
But for now—Entering the Heart of Sun & Moon is a magnificent book. It is strange, beautiful, profound, fascinating, practical, enlightening, and utterly unique.